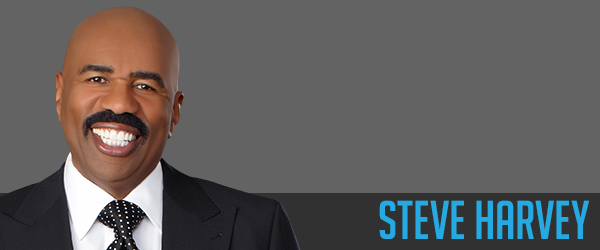 The Steve Harvey Morning Show
The Steve Harvey Morning Show combines heart, humor and music along with celebrities from the worlds of sports and entertainment. Harvey is joined on the show by Shirley Strawberry, J. Anthony Brown, Carla Ferrell, his "Nephew Tommy," and Junior. 
​The Steve Harvey Morning Show encourages listener involvement with segments such as: Tommy's Prank Phone Calls - "Nephew Tommy" calls unsuspecting listeners and creates scenarios that result in hilarious reactions; The Strawberry Letter - listener questions about relationships are read on-air daily by Shirley Strawberry and answered candidly by Harvey; Reality Update - a weekly recap of the hottest reality shows by Carla Ferrell; J. Anthony Brown's Murder the Hits – J. creatively showcases songs at the expense of celebrities that are in the news; and Junior's weekly Poetry Corner - Junior tries out his newly-acquired skills as a poet! ​
The Steve Harvey Morning Show is the #1 syndicated morning show in America and #1 with Black audiences. The program was created by Harvey in September 2000, and it joined Premiere Networks' national lineup in 2005. Today, The Steve Harvey Morning Show reaches nearly 9.5MM Monthly Listeners P12+. For his work on the program, Mr. Harvey was honored with the NAB Marconi Award for "Network/Syndicated Personality of the Year" in 2013 and 2015, and he was inducted in the NAB Broadcasting Hall of Fame the same year.
6:00 am - 10:00 am Local Time, Monday through Saturday ​
​
​