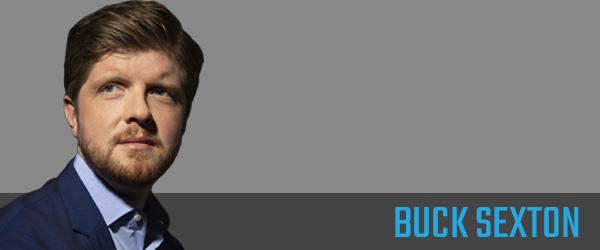 The Buck Sexton Show
Buck Sexton, host of The Buck Sexton Show, is the face of a new generation emerging in talk radio. 
In a constantly changing news climate, Buck has the appeal and real-life experience to guide a broad demographic of listeners who want straightforward answers on complex issues. From business and politics, to entertainment and social issues, he shares his candid, passionate takes on the latest local, national and global headlines, and welcomes a variety of key guests and experts that appeal to all listeners​.
From on-air to online, Buck connects and engages with his audience 24/7, continuing the national dialogue with fans via social media - Instagram, Twitter, and Facebook. 
Buck's unique perspective and experience in politics adds a fresh and powerful voice to your station. The program reaches over 100 affiliates nationwide and broadcasts live on weekdays from 3 - 6 p.m. PT/6 - 9 p.m. ET, and can also be heard on iHeartRadio.com, the iHeartRadio mobile app, and BuckSexton.com.
Weekdays 6:00 p.m. - 9:00 p.m. Eastern
​​